Who we are :
U.S. Concrete, Inc. operates and sells its products and services in the United States. We take pride in seeking harmony with the environment while contributing to the building of contemporary societies, infrastructures, and high-profile projects that improve people's lives and connect them together.
Through our operating companies, U.S. Concrete serves major construction markets in the United States in two business segments: ready-mixed concrete and aggregate products. The Company provides its products and services from its operating companies in Texas, Northern California, Oklahoma, New Jersey, New York, Washington, D.C., Philadelphia and British Columbia.
Value Proposition
| | |
| --- | --- |
| The Know-How | U.S. Concrete provides vast technical expertise in concrete mix design optimization. We can produce the right mix for any particular application. |
| | |
| --- | --- |
| Sustainable Value Creation | U.S. Concrete is the first national concrete company to formalize a company-wide commitment to green building through its EF Technology, environmentally friendly concrete mixes. Since 2009, U.S. Concrete has saved over 1 million tons of CO2 emissions from entering the atmosphere through the use of its EF Technology. |
| | |
| --- | --- |
| Staying Ahead | Through innovation, research and development, and strategic alliances, U.S. Concrete remains the leader in concrete manufacturing and green building. |
Product
Our ready-mixed concrete products consist of proportioned mixes we prepare and deliver in an unhardened plastic state for placement and shaping into designed forms at the job site. Selecting the optimum mix for a job entails determining not only the ingredients that will produce the desired permeability, strength, appearance and other properties of the concrete after it has hardened and cured, but also the ingredients necessary to achieve a workable consistency considering the weather and other conditions at the job site.Concrete Mix Design
We produce ready mix concrete by combining the desired type of cement, other cementitious materials (described below), sand, gravel and crushed stone with water and, typically, one or more admixtures. These admixtures, such as chemicals, minerals and fibers, determine the usefulness of the product for particular applications.
We frequently use various mineral admixtures as supplements to cement, which we refer to as cementitious materials, to alter the permeability, strength and other properties of concrete. These materials include fly ash, ground granulated blast-furnace slag, silica fume and other natural pozzolans. These materials also reduce the amount of cement content used which results in a reduction in CO2 emissions.
We also use fibers, such as steel, glass, synthetic and carbon filaments, as additives in various formulations of concrete. Fibers help control shrinkage cracking, thus reducing permeability and improving abrasion resistance. In many applications, fibers can replace welded steel wire and reinforcing bars.
We believe we can achieve product differentiation for the mixes we offer because of the variety of mixes we can produce, our volume production capacity and our scheduling, delivery and placement reliability. Additionally, we believe our EF Technology ® initiative, which utilizes alternative materials and mix designs that result in lower CO2 emissions, helps differentiate us from our competitors. We also believe we distinguish ourselves with our value-added service approach that emphasizes reducing our customers' overall construction costs by reducing the in-place cost of concrete and the time required for construction.
By carefully designing proper mixes and using advances in mixing technology, we can assist our customers in reducing the amount of reinforcing steel, time and labor they will require in various applications. We provide a variety of services in connection with our sale of ready-mixed concrete that can help reduce our customers' in-place cost of concrete. These services include: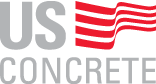 U.S. Concrete, Inc.
Communications Department
331 N. Main Street
Euless, TX 76039
Tel: (817) 835-4105