Who we are :
The Lime and Limestone Operations manufactures lime and limestone products, supplying primarily the construction (including highway, road and parking lot contractors), metals (including steel producers), environmental (including municipal sanitation and water treatement facilities and flue gas treatment), oil and gas services, industrial (including paper and glass manufacturers), roof shingle and agriculture (including poultry and cattle feed producers) industries. The company is headquartered in Dallas, Texas, and primarily serves markets in the Central United States and consists of open-pit quarries and an underground mine, plants and distributions facilities owned by US Lime's wholly owned subsidiaries: Arkansas Lime Company, Colorado Lime Company, Texas Lime Company, U.S. Lime Company, U.S. Lime Company — Shreveport, U.S. Lime Company — St. Clair and U.S. Lime Company — Transportation.
Through its wholly owned subsidiary, U.S. Lime Company — O & G, LLC ("U.S. Lime O & G"), under a lease agreement (the "O & G Lease"), US Lime has royalty interests ranging from 15.4% to 20% and a 20% non-operating working interest, resulting in an overall average revenue interest of 34.8%, with respect to oil and gas rights in wells drilled on approximately 3,800 acres of land located in Johnson County, Texas, in the Barnett Shale Formation. Through U. S. Lime O & G, US Lime also has a drillsite and production facility lease agreement and subsurface easement (the "Drillsite Agreement") relating to approximately 538 acres of land contiguous to Johnson County, Texas, property. Pursuant to the Drillsite Agreement, US Lime receives a 3% royalty interest and a 12.5% non-operating working interest in any wells drilled from two pad sites located on the property.
What we do :
Products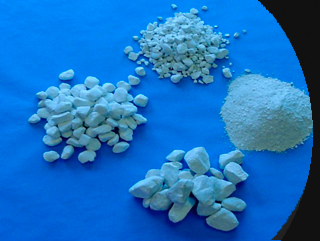 Click on the following links for information about US Lime products.
High Calcium Quicklime
Hydrated Lime
Lime Kiln Dust (LKD)
Lime Slurry
High Calcium Limestone
Not all products are available in every state or area, so please use the Contact Us link to send us your sales or information inquiry, and we will be pleased to respond.
Safety Data Sheets
Safety Data Sheets can be found by clicking on the Locations tab and then selecting a specific location. Next click on a specific product for that location for information about the product and a link to the Safety Data Sheet.